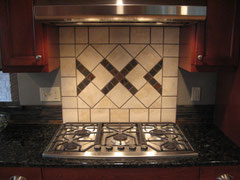 "Working with Doug was a wonderful experience – from the bidding process all the way through to the finish of our kitchen remodel.  He offered great ideas to improve our original design, ensuring the outcome was the best possible. His attention to detail is amazing.  Doug's professionalism and workmanship is excellent. He is a good communicator – we always knew exactly what was happening, when, and what to expect.  His estimates for time and budget were perfect and he kept on track throughout the whole project, which made it easier for us to plan. Bidding and invoicing were clear, detailed and timely.  The job site was always tidy and the project contained to the area of the remodel.  Doug made sure that there was no disruption to the rest of the house. We love the new kitchen, which is not only beautiful, it has made cooking so fun and easy!"
Karen J.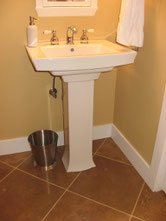 "We have been pleased to have Doug do a number of projects on our 1920's home.  He has done his work with excellence and craftsmanship while being willing to work within the budget we provided.  Doug also made a number of excellent design suggestions on our different projects resulting in much more workable and aesthetically pleasing living spaces.  He listened well to our thoughts, ideas, and particular needs while giving honest feedback about the viability or implications of those ideas.  We have always experienced Doug as an honest and trustworthy craftsman – we will definitely use him again on our next project and would recommend him confidently."
Ruth D.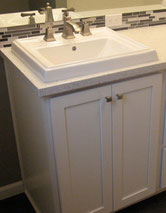 "When looking for a contractor to add a bathroom to our small 1930's home, Doug came recommended by a friend and exceeded our expectations. Compared to other contractors I interviewed for this project, Doug had the best vision on how to create a master bath off an unfinished space in our attic. He was easy to work with and helped me as his client make necessary decisions all the way from the design stage down to the tile used and what fixtures would be best suited. His professionalism is top notch, and his workmanship is quality yet affordable. He not only did a fabulous job on the addition, but did so in the most timely manner and with great care. I highly recommend Irwin Renovations to all my friends and family, and look forward to the next opportunity we can hire Doug to make our house a better home."  
Julie W.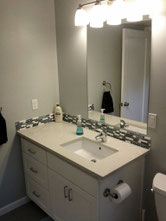 "I want to thank you for doing such a nice job on our house and for all the little things you did that were not really part of the project but have greatly improved our life: fixing the back door and putting a new bolt on it, finishing the kitchen cabinets, etc. . . . I also really appreciate all the time you spent looking into options for us on the bathroom cabinet and shower door and the patience you showed through the whole project. I do realize that you spent many an evening thinking about our project and coming up with great ideas, when you could have been doing other things." 
Elizabeth S.